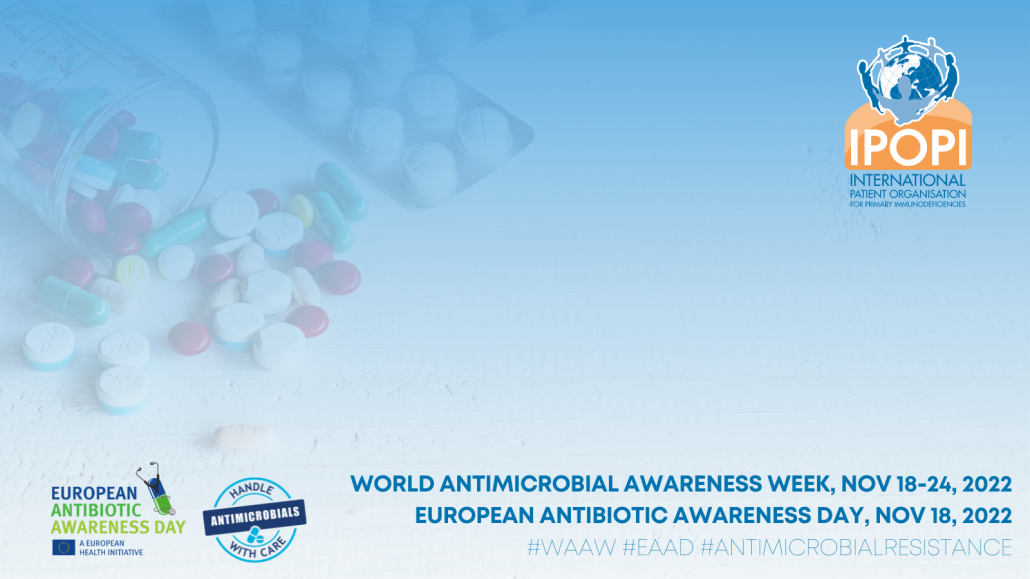 The World Antimicrobial Awareness Week (WAAW), observed yearly from November 18–24, aims to increase public knowledge of antimicrobial resistance (AMR) and encourage best practices among stakeholders to reduce the emergence and spread of drug-resistant pathogens. To curb AMR effectively, all sectors must use antimicrobials prudently and adopt other preventive measures. Without effective antimicrobials, the success of modern medicine in treating infections would be at increased risk.
IPOPI is a campaign partner
WAAW is organised in partnership with European Antibiotic Awareness Day (EAAD), and IPOPI is engaging in both WAAW and the EAAD to benefit patients with primary immunodeficiencies who depend heavily on antibiotics. In addition to joining the campaign as an EAAD partner, Jose Drabwell from the IPOPI Board will represent IPOPI at the campaign's launch event on November 17 and offer input from the PID perspective.
For a large portion of individuals with primary immunodeficiency, antibiotic prophylaxis is required for a significant period of their lives in order to fight or prevent infections, lower the risk of hospitalization and enhance their quality of life. Since resistant bacteria complicate PID management, antimicrobial resistance is a growing problem for these patients. IPOPI is participating in this international effort to prevent antimicrobial resistance and ensure that they continue to be effective for patients in need.
---
See IPOPI's previous work on antibiotic awareness
https://ipopi.org/wp-content/uploads/2022/11/1.png
900
1600
IPOPI
https://ipopi.org/wp-content/uploads/2017/06/LOGO.svg
IPOPI
2022-11-16 09:00:56
2023-05-05 12:58:46
IPOPI joins antimicrobial awareness campaign