The decision to create the International Patient Organisation for Primary Immunodeficiencies (IPOPI), emanates from an interim organising committee meeting in Oxford, UK, in 1990. Two years later, in 1992, IPOPI was formally established in Lugano, Switzerland.
The small group of representatives from the primary immunodeficiency (PID) community who met in 1990 identified the need to start an organisation that provides international representation and support to national PID patient groups around the world.
Prominent among those responsible for the creation of IPOPI were Bob LeBien, (IPOPI Life President), Professor Helen Chapel, leading UK clinician (IPOPI Honorary Vice President), Martin Gatehouse, a parent from Switzerland, Robin Fanshawe and Fiona Sandford from Primary immunodeficiency Association (former UK patient group, PiA), and Maj-Lis Helstrom a parent from Sweden.
Ever since its creation IPOPI has made it its mission to improve awareness, access to early diagnosis and optimal treatments for PID patients worldwide.
IPOPI has grown significantly in recent years with more countries represented than ever before and an increasing amount of activities reaching out to all regions of the world.
These activities include advocacy, awareness, development and more recently clinical care projects, all of which are carried out in pursuit of IPOPI's mission.
Listed below are some of the key events organised by IPOPI since its launch in 1992.
IPOPI Global Patients' Meetings
IPOPI has held Global Patients' Meetings (GPM, previously called biennial meetings) for its National Member Organisations (NMOs) on even years ever since it was launched in 1992. These meetings are a unique opportunity for IPOPI's NMOs to get together, learn about advocacy, awareness and management in dedicated skills-building sessions and workshops, and get updates on the latest medical and industry developments.
The GPM has been organised in parallel to the meetings of the European Society for Immune Deficiency (ESID) and International Nursing Group for Immunodeficiencies (INGID) between 1994 and 2022 in the following cities: Sitges, Spain; Goteborg, Sweden; Rhodos, Greece; Geneva, Switzerland (transferred from Israel); Weimar, Germany; Versailles, France; Budapest, Hungary; 'sHertogenbosch, Netherlands, Istanbul; Florence, Italy; Prague, Czech Republic; Barcelona, Spain; Lisbon, Portugal; Birmingham, UK (Online due to the COVID-19 pandemic); Goteborg, Sweden.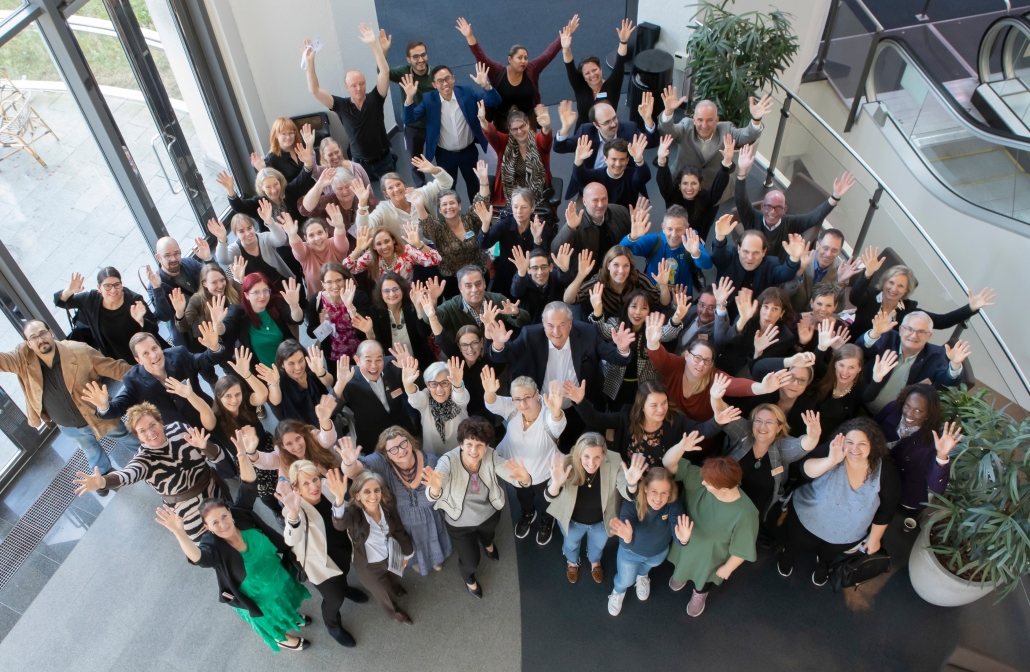 IPOPI Global Patients' Meeting in 2022 in Gothenburg, Sweden
Global Leaders Meeting
The Global Leaders Meetings were organised in 2009 and in 2011 and brought together, by invitation, leading physicians and immunologists with an interest in PIDs, patient representatives and other stakeholders. Both meetings were well received and very successful. They resulted in important recommendations and actions regarding diagnosis and treatment and helped IPOPI to fine tune its strategic plan in the years that followed.
IPIC – International Primary Immunodeficiencies Congress
In 2013, IPOPI launched its first medical congress with a focus on PID clinical care – the International Primary Immunodeficiencies Congress (IPIC).
IPIC has been a resounding success since it was launched in 2013. The congress is organised every odd year, on an alternate basis with IPOPI's Global Patients' Meeting. IPIC was created to respond to an increasing demand from clinicians and other health professionals from all around the world for an international PID Clinical Care Congress. The uniqueness of IPIC comes from the fact that its programme is clinically orientated and prepared with input from the key PID stakeholders: doctors, patients and nurses.
IPIC's global congress delegates primarily include doctors active in various clinical and scientific disciplines but also patient group leaders, nurses, industry representatives, health policy specialists and regulators as well as other key stakeholders.
The first IPIC was held in Estoril, Portugal, in 2013 and the second one in Budapest, Czech Republic in 2015. IPOPI took IPIC outside Europe in 2017. IPIC2017 was held in Dubai, UAE, and helped establish the congress maturity. IPIC2019 was held in Madrid, Spain, with a record number of attendees, requiring a large auditorium. IPIC2021 was delayed to 2022 and moved from Berlin, Germany to Vilamoura, Portugal, due to the COVID-19 pandemic.
IPOPI Chairpersons
Over the years the following dedicated persons have served as Chairpersons of IPOPI. IPOPI is forever grateful to them for their leadership and dedication without which IPOPI would not be the organisation it is today.
Martin Gatehouse, Switzerland
Bob LeBien, USA
Louise Carroll, New Zealand
Kees Waas, Netherlands
Bianca Pizzera, Italy
Josina Drabwell, UK
Martine Pergent, France
IPOPI Medical Advisory Panel (MAP) Chairpersons
Dr Teresa Español
Dr Español served as President of the IPOPI MAP from 2001 to November 2013. She worked tirelessly to educate physicians in all regions of the world and provided IPOPI with much needed medical advice in countless projects, campaigns and meetings.
Prof Bobby Gaspar and Dr Nizar Mahlaoui
Prof Gaspar and Dr Mahlaoui served as Chairman and Vice Chairman of IPOPI's MAP between 2013 and 2017. They provide support to IPOPI in liaison with the IPOPI MAP members on all medical and scientific matters IPOPI deals with. They also actively contribute to IPIC congresses, IPOPI's SCID newborn screening campaigns and other advocacy campaigns as well as IPOPI's numerous publications.
Dr Nizar Mahlaoui and Prof Martin van Hagen
Dr Mahlaoui and Prof van Hagen serve as Chairman and Vice Chairman of IPOPI's MAP since 2017. They offer invaluable medical guidance to IPOPI, in coordination with IPOPI MAP Members, towards medical education meetings, advocacy and awareness efforts as well as to publications and statements.
Executive Directors
David Watters
Between 2005 and 2010 IPOPI benefited from having Mr Watters as its first Executive Director. Previously Mr Watters held an executive position at the PiA (UK PID patient organisation). IPOPI developed greatly under his aegis.
Johan Prevot
Mr Prevot started working with IPOPI in 2010 as Director of Global Development and succeeded to David Watters as IPOPI's Executive Director in 2011. Mr Prevot has helped IPOPI become the leading advocate for PID patients worldwide through stakeholder collaboration.
Key partners and benefactors
Several stakeholders played a crucial role in support of IPOPI over the years.
In IPOPI's early days the Immune Deficiency Foundation and the Jeffrey Modell Foundation, both from the US, provided the seed funding that allowed IPOPI to become a reality.
IPOPI is also grateful to its corporate partners who have over the years sustained interest and supported IPOPI's diverse projects, campaigns, educational materials, meetings, workshops and publications.
IPOPI is particularly thankful to Mr. Bob LeBien, IPOPI's Honorary Life President, who has personally supported the launch of an IPOPI development campaign in South-East Asia which started in 2012.
The seed support provided by Mr LeBien was key to ensuring the launch of numerous national patient organisations in the region.
Important historical dates:
1996
Bob LeBien humbly accepts the recognition of becoming the first IPOPI Honorary Life President following the end of his second mandate as IPOPI Chairperson.
2003
Immunoglobulins were removed from the World Health Organization (WHO) List of Essential Medicines (EML).
2004
IPOPI first high level EU meeting at the European Parliament's Scientific and Technological Assessment Options Committee (STOA)
2005
David Watters becomes IPOPI Executive Director. David had rendered his professional services to IPOPI for some years on a project basis. He hired administrative staff and started to professionalize the management of IPOPI.
A poster highlighting the dangers of late PID diagnosis was presented at the European Rare Disorders Conference in Luxembourg in June
2006
IPOPI's European PID Consensus Conference in 2006, Langen (Germany), supported by a European Commission grant.
2007
Professor Helen Chapel, one of IPOPI's founders, graciously accepted the position of Honorary Vice-President of IPOPI.
Reinstatement of Immunoglobulins in the World Health Organization (WHO) List of Essential Medicines (EML) in result of the diligences done by IPOPI in close harmony with the International Union of Immunological Societies (IUIS) and with the support of numerous other PID stakeholder organisations. Sir Christopher Mallaby and Prof Surjit Singh spoke to the EML Committee on behalf of IPOPI. Prof Helen Chapel was instrumental with her continuous work and support in the months leading up to the meeting at WHO.
IPOPI was accepted as a member of the WHO Global Collaboration on Blood Safety.
2008
Bianca Pizzera, upon her retirement as Chair, and in recognition of her outstanding contribution to IPOPI, was honoured with the recognition of Honorary Vice-President of IPOPI.
Erik Andersen from Norway is the first recipient of the IPOPI "Vasalli Award" attributed to a young adult who has done extraordinary things for the Primary Immunodeficiency society.
2010
IPOPI expanded its staff with the creation of a Director of Development and Johan Prevot is hired.
2011
Johan Prevot succeeds to David Watters as IPOPI's Executive Director
2012
Bob LeBien is the first recipient of the LeBien Award which recognises an adult who has improved conditions for people with a primary immunodeficiency internationally.
2013
First International Primary Immunnodeficiencies Congress – IPIC – is held in Estoril, Portugal
2014
Publication of the Principles of Care for Primary Immunodeficiencies paper on Frontiers of Immunology
2016
IPOPI reaches 60 National Member Organisations.
2017
IPIC is held for the first time outside Europe, in Dubai, UAE.
2018
IPOPI's Global Patients Meetings has its best attendance ever
2019
PID diagnostic tests were included in the WHO Essential Diagnostics List (EDL) for the first time following a successful joint application by IPOPI and IUIS (International Union of Immunological Societies).
2020
Following BREXIT; decision to open an international non-profit association (AISBL) in Belgium in order for IPOPI to be able to continue taking part in EU research programmes and carrying out EU level representational activities.
2021
Activities gradually transferred to Belgium.
2022
IPOPI celebrates 30 years as an organisation.
Decision at AGM to dissolve the UK charity in line with the charity's constitution.
2023
As of 2023 IPOPI solely operates as an AISBL in Belgium.
IPOPI reaches 70 National Member Organisations.