Objective 1:
Improve access to early diagnosis & patient-centred care
IPOPI PID Forum at the European Parliament
22nd EU PID FOrum: The EU's SoHO regulation proposal and its impact on patients with PIDs
On January 26, 2023, IPOPI hosted its 22nd EU PID Forum on the legislation of substances of human origin at the European Parliament in Brussels, Belgium. This Forum was co-chaired by the Members of the European Parliament Katerina Konecna (the Left, Czechia) and Nicolás González Casares (S&D, Spain).
IPOPI WHIM registry workshop 
On October 25, IPOPI had the pleasure of bringing together key opinion leaders in the field of WHIM syndrome to an online workshop, focused on understanding the current state of data collection on WHIM throughout the world and identifying the unmet needs remaining.
IPIC – International Primary Immunodeficiencies Congress
IPIC 5th Edition was held in beautiful Vilamoura, Portugal, over 27 to 29 April 2022.
IPIC5th Edition saw the joining together of 600 delegates interested in learning more about diagnosis and clinical care of primary immunodeficiencies (PIDs). Over 130 posters for presentation were approved with most presented by young scientists and physicians with an interest in PID.
The program celebrated the inspiring work that has been carried out by the global PID community however the event also highlighted the many challenges which still need to be addressed. The strength and continued success of IPIC is due to the well-balanced scientific program that is clinically orientated with input from key PID stakeholders namely doctors, scientists, patients and nurses – designed to complement other existing international congresses and scientific meetings.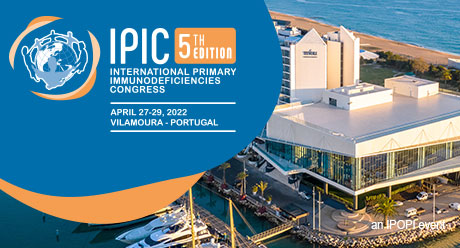 SCID Newborn Screening campaign
Severe Combined Immunodeficiency (SCID) is the most severe form of PID and a paediatric emergency. Children born with SCID lack a working immune system and will die in the first year of life if undiagnosed and untreated. Screening newborn babies for SCID is possible and cost-effective. Many countries are including screening of SCID in their national newborn screening programmes – details in the IPOPI PID Map

IPOPI strives to ensure that babies born with SCIDs can have access to the earliest diagnosis possible allowing for successful and curable treatment.
IPOPI started raising awareness of the importance of SCID newborn screening (NBS) in the late 2000s in partnership with the European Parliament and with the strong commitment and support from MEP Ms. Glenis Willmott. A call for EU Recommendations on newborn screening for rare diseases such as SCID was the starting point and many regional and national SCID campaigns have followed.